Wireless Dummy Camera - Deter Threats
SKU:

UPC:

MPN:

Weight:

1.00 LBS

Shipping:

$12.95 (Fixed Shipping Cost)
Frequently bought together:
Description
PROTECT YOUR HOME OR BUSINESS
POTOTECH indoor/outdoor Surveillance Dummy Ir Led Wireless camera home CCTV Security Camera Simulated video Surveillance

Description:
Security will always remain one of the primary concerns of home-owners around the world. A lot of people will spend thousands of dollars to make sure that the home is protected from any potential burglaries.

If you are finding that you cannot afford a security camera, a dummy surveillance camera will do the job for you by scaring off any burglars or intruders from your property.

Remember that there is no video that is actually being recorded with your dummy security camera and it is not going to protect you in a court of law.

Your main goal is to scare off the intruder and make them believe that there is a real camera in place.
There is nothing that is going to clue them in as to whether or not you are actually filming them or not. Giving them the illusion that they are under surveillance is enough to scare off the majority of intruders.

Specifications:
LED Light: Red LED
Material: plastic
Camera shape: dome
Battery operated : 2 x AA batteries( Package doesn't include batteries)
Net Weight: 180g
Color: Black
Package including:
1 x Dummy Dome Security CCTV Camera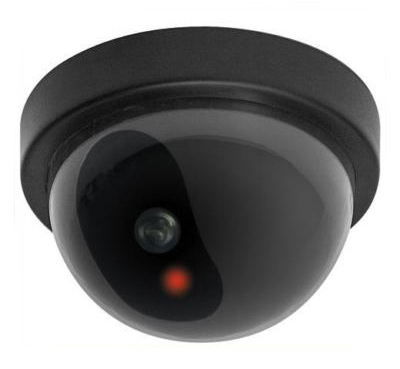 View All
Close